Create a Google Calendar widget
Created :

Apr, 18, 2016

Last Updated:

Jul, 26, 2023
Easy Steps
---
About our Google Calendar widget
The FeedWind Google Calendar widget is easy to setup and customize to match your website design.
As with all our RSS widgets, the Google Calendar widget is fully featured with customization options. You can choose which elements of your calendar feed to display and choose fonts, colors and use a custom CSS to make more detailed styling adjustments.
---
Getting started
To create a Gcal widget you must first either sign in to your Feedwind dashboard, or if you don't have an account, you can create one in no time at all! (We just need an email address and that's it!). Sign in to your dashboard and then click on the "Create widget" button.

You will then be presented with 6 options, select the option to create a Google Calendar Widget. You will then see our setup screen, tailored specifically for Google Calendar.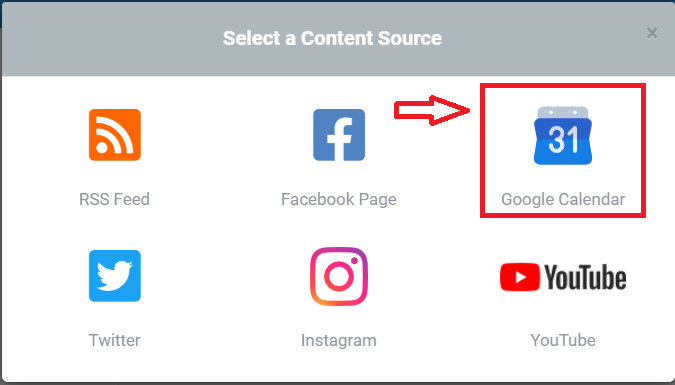 ---
The Google Calendar widget setup screen
Entering your Google Calendar ID
To get a feed from your Google Calendar you must first find your Google Calendar ID. This is usually because of the email address used to login into Google to access the calendar.

Options specific to our Google Calendar widget
Google Calendar feeds are a little different to regular RSS feeds because they contain extra fields not found elsewhere. These are specific to calendar feeds such as location start and end times for events. Also, our Gcal widget allows you to choose whether to enable/disable the display of the Event Title, Event Description, Location and Event Time.
We have also included some useful date range options, so you can choose the date range for your feed items (Events) from past to future events.

---
Customize your Google Calendar widget using CSS
You can customize your Google Calendar widget using a custom CSS so you can match your website design. Our article on how to apply a custom CSS to your Google calendar widget explains the details.
Have questions about the Gcal widget? Please check out our Google Calendar widget FAQ section.
Create a Google Calendar widget
---
Related posts