Best social media widgets for your website
Created :

Sep, 16, 2022

Last Updated:

Mar, 9, 2023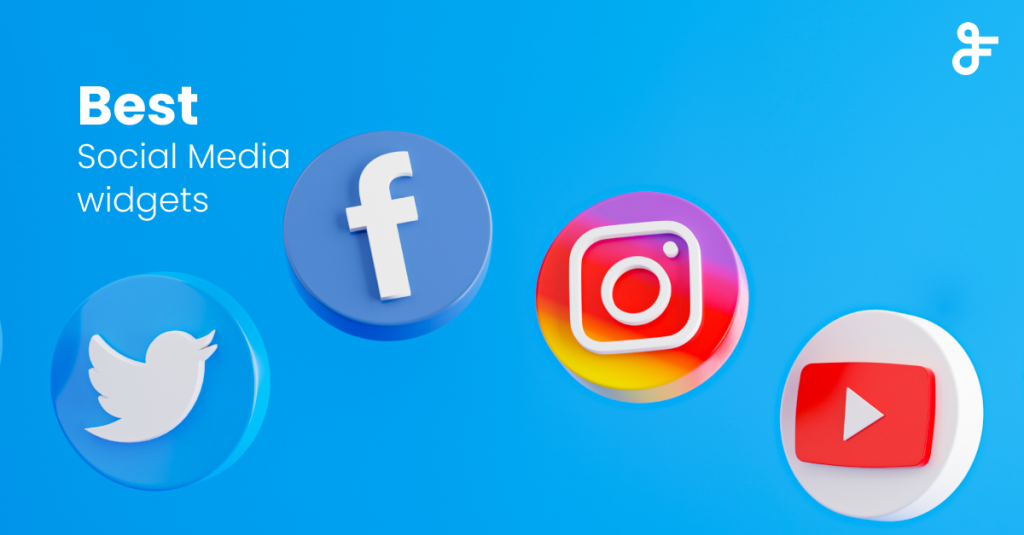 Social media has become essential for communication, marketing, and networking. It allows individuals to connect with friends, family, and others worldwide in a way that was never possible before. Today, social media platforms like Facebook, Twitter, and Instagram are the most popular.
A social media feed widget is a small program that can be easily integrated into a website or blog to allow users to share content or interact with other users on various social media platforms. Widgets can be used to share blog posts, images, or videos. A social media widget can be a quick and easy way to share content on your website or blog with your followers on Twitter, Instagram, and Facebook. 
Today, we will explore the best social media widgets & tools Feedwind provides, which will help to improve your website engagement and overall performance. Feedwind also has a feature for you to measure and record the impressions of your social media widget with in-built analytics. Along with the analytics features, it also has a user-friendly setting screen and quick responsive customer service.
Facebook
Facebook widgets are a great way to keep your users engaged on your website. They allow you to quickly and easily add Facebook page content to your website page without having to leave the website page.
When somebody clicks the Facebook widget feeds, they are taken to your Facebook posts. This is a great way to promote your page and get more people to engage with it and like it.
Feedwind Facebook widget is very easy to create, customize and implement without coding knowledge. Now, let's extend your social network reach by sharing Facebook posts or brand pages in a custom widget. Let's create some great facebook widgets for websites.
"Extend your social network reach by sharing Facebook posts or brand pages in a custom widget"
Instagram
Instagram is a social media platform where users can post photos and videos. Some of the features of Instagram are that users can follow other users, like and comment on their posts, and users can share photos and videos with others who are also using Instagram.
An Instagram widget can be added to websites or blog posts. An Instagram website widget allows users to see their posts in a list. Give your website enriching content from the responsive Instagram widget, which will give a boost to your website audience to increase your Instagram community.
How to get the Instagram widget? Well, it's super easy to add an Instagram HTML widget to a website using Feedwind. With the Feedwind Instagram widget, you just need to add your username to get access to all Instagram photos and videos, which will be displayed on the website. And we can do more than just add photos and videos. Feedwind comes with lots of customization options for a widget. We can change and add color schemes, fonts, backgrounds, height, width, and more, to match the website theme and branding. Let's dive in and create some awesome Instagram website widgets.
"Embed Instagram on your website to keep your customers up to date"
Twitter
Twitter is a social networking site where users can post short, 140-character messages called "tweets." Twitter is one of the most popular social networking sites; as of today it has 396.5 Million users globally.
Twitter is a great way to stay connected with friends and family, as well as to keep up with news and current events. You can also use Twitter to promote your business or website.
Feedwind Twitter widgets for websites are a great way to display your latest tweets on your website or blog. They are easy to set up and can be customized to match your site's design.
There are a few things you can do using a Feedwind Twitter widget:
You can display custom hashtags[#hashtag] and user tweets[@feedwind] to pull unique tweets into your widget.

Display Tweets from you and users that you are following

Make sure the widget is set to display your most recent tweets. You don't want to display old tweets that are no longer relevant

Customize the widget to match your site's design and branding. You don't want it to stand out like a sore thumb

Make sure the widget is visible on all pages of your site.
Once you have added the Twitter website widget, we are all set. The Feedwind Twitter widget will pull all recent tweets, and retweets and display them on your website without leaving your website.
Using a Twitter widget is a great way to keep your website or blog up-to-date with your latest tweets and news. Just remember to keep it fresh and up-to-date. Please check out some of the Feedwind Twitter widget examples.
 "Let's extend your social network reach by sharing Twitter posts in a custom widget"
Now that we know how easy it is to create and embed social media feed widgets onto a website or blog, let's get started for free today!
---
Related posts