FeedWind Analytics Feature
Created :

Jun, 9, 2021

Last Updated:

Aug, 27, 2022
FeedWind's Analytics feature is a mechanism for users to tally the amount of impressions received by a widget or feed. Impressions are how marketers and web content creators measure how much attention any given content generates for a site. These are usually numbers that show how many times a specific object of media passes the users' screens, so advertisers know if their message is reaching the audience. Observing impressions data over a set period will tell you if a marketing strategy is working or not.
How to use the analytics function in FeedWind
In FeedWind, this feature lets users view numbers for the entire account or for each widget, separated by date.  The visual graph is interactive, so you can display or hide elements at will, and hover over its lines to see the information in numeric form.
Easy Steps

To use the Analytics feature:

After you've logged in, click Analytics in the header, found between My Widgets and Blog.
You will see a figure "Total Impressions" at the top of the next screen, which reflects all impressions across all widgets on your current account. Underneath this figure is a graph that provides a visual representation of each widget, so you can see how impressions have increased or decreased over time.
Above the graph, you will see a dropdown list that contains each of your widgets by title. Select one of these widgets to change the graph to show its data.
 The current widget will be displayed with the widget key beneath the graph, which shows which colors correspond with each widget.  These entries can be clicked to toggle their lines on and off the graph.
To return the graph to its original view, select All Widgets from the drop list.
Next to the drop list, you'll find a calendar tool, where you can select a date range for the impressions, or narrow it down to a specific day.
At the bottom of the page, you can find a Summary of impressions over varying time periods, including the current date, or 1, 3, 6, 12, or 24 months ago.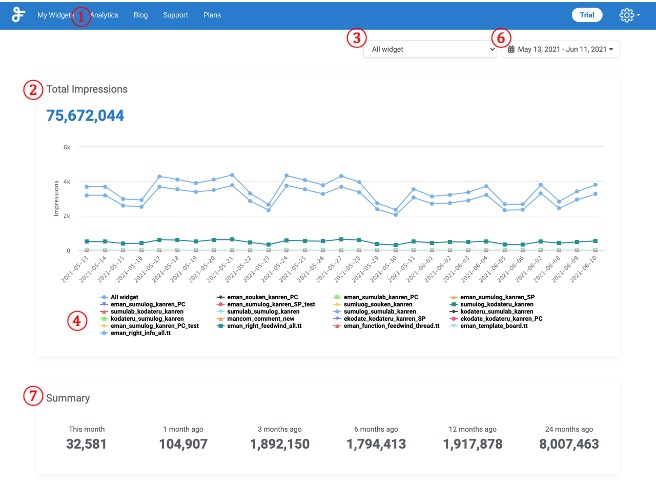 ---
Related posts