Borders and corners

Easy Steps
Modify borders & corners
---
Open your widget for editing (or create a new widget)
Visit the General section of the setup screen, scroll down and click on the Advanced Settings option
Scroll down to the Border option
Use the slider control to control whether the border is displayed (On) or hidden (Off)
Select "Rounded" or "Square" corners as required
Save your using the  

Save & Get code

  button – if your widget is installed it will be auto-updated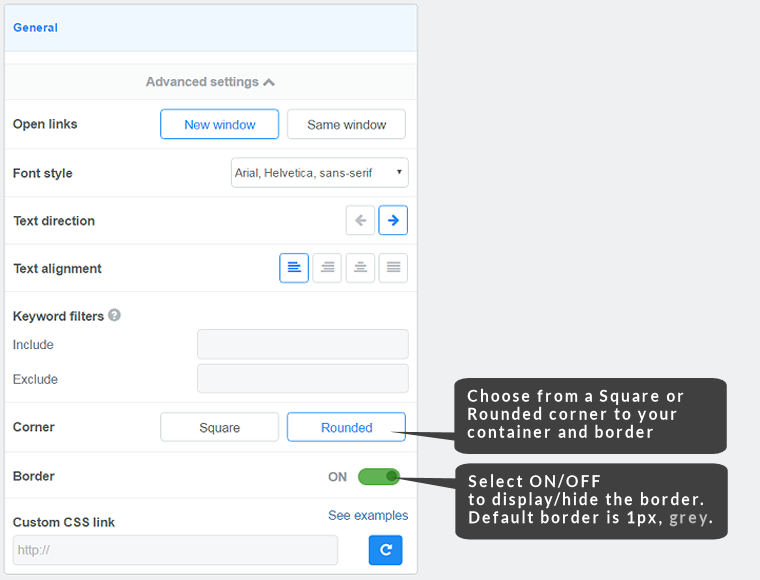 Manage borders in the FeedWind RSS widget
Default Border
By default, a grey border is drawn around your RSS widget. If you want to remove the border completely, you can do so under the >Advanced settings link (see image) in the General section of the FeedWind setup screen. If you want a border but wish to change the border appearance from the standard 1px grey line, you need to create a custom CSS. Using CSS you can specify any type of border styling you want in your widget. You can find out more about customization in our customizing FeedWind tutorial.
Corner Radius Effects
The FeedWind General >Advanced Settings section also allows you to create a widget with rounded (radiused) corners. The default radius of 4px is available for your widget for quick setup. However, you require a different radius and/or other border styling, you can use a custom CSS to create corner radius effects styles, alter line thicknesses and change the border color. The custom CSS can contain styling that allows you to use FeedWind to create a custom RSS widget which you can insert as a HTML code snippet while using the power of external CSS to allow you to design-match your RSS widget to your website and also include further functionality.
---
May 12, 2016 6:49 pm