Pinterest Widget Best Practices: Tips for Optimizing Your Widget for Maximum Engagement
Created :

Jun, 13, 2023

Last Updated:

Aug, 4, 2023
Pinterest is a powerful platform for showcasing visual content and driving engagement. By integrating a Pinterest widget into your website using FeedWind, you can capture the attention of your visitors and encourage them to explore your Pinterest boards. In this blog post, we will discuss the best practices for optimizing your Pinterest widget for maximum engagement. Let's dive in!
Ideal Placement for Your Pinterest Widget

The placement of your Pinterest widget plays a crucial role in capturing the attention of your website users. It's essential to position the widget where it is easily visible, such as the above-the-fold, sidebar, header, or footer. Experiment with different placements to find the one that works best for your website's layout and design.
How to Choose the Right Pinterest Widget Type for Your Website

FeedWind offers various types of Pinterest widgets to choose from, such as thumbnail, card, and overlay widgets. Consider the nature of your content and the overall aesthetic of your website when selecting a widget type. Card & Overlay widgets are ideal for displaying a collection of images.
Customizing Your Pinterest Widget's Colors and Design to Match Your Website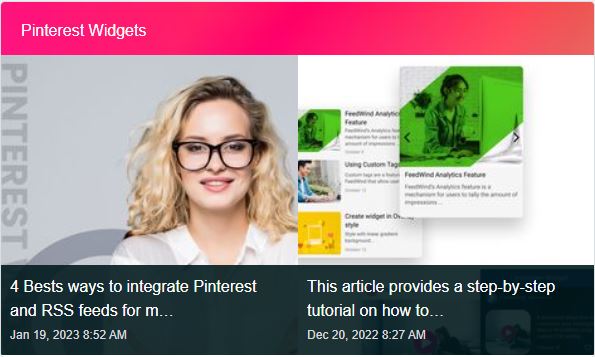 To create a seamless visual experience for your visitors, customize your Pinterest widget's colors and design to match your website. Use the customization options in FeedWind to select colors that complement your brand, adjust the widget's dimensions, and choose a layout that suits your website's overall look and feel.
Using Captions and Descriptions to Make Your Pinterest Widget More Engaging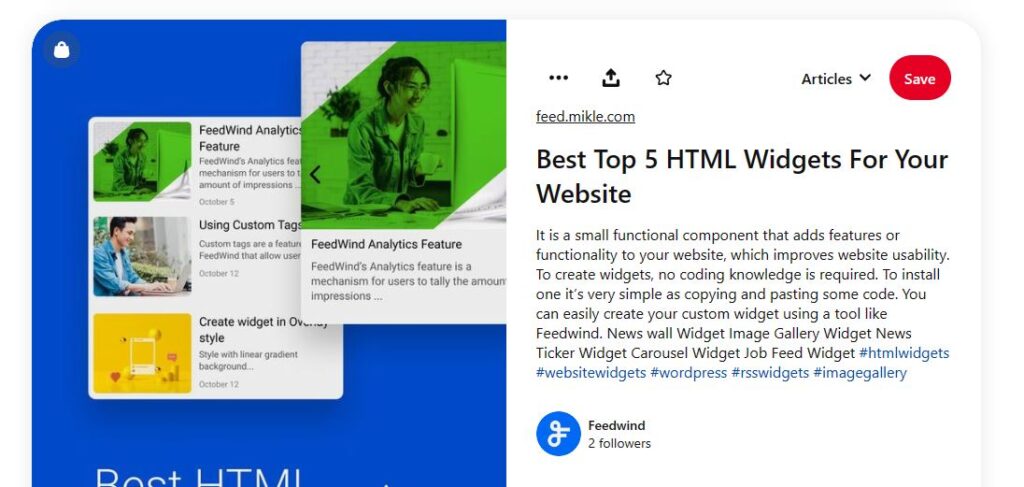 Captions and descriptions are powerful tools for adding context and enhancing the engagement of your Pinterest widget. When adding images to your Pinterest boards, make sure to include informative and compelling captions. These captions will be displayed within the widget and can entice your visitors to click and explore further.
Promoting your Pinterest widget is crucial for expanding your reach and encouraging visitors to share your content. Share links to your widget page on social media platforms, and embed it in blog posts. Encourage visitors to share your widget by adding social sharing buttons and CTAs that prompt them to save or pin your content.
FAQs
1. Can I have multiple Pinterest widgets on my website?
Absolutely! You can create multiple Pinterest widgets using Feedwind and display them in different sections of your website.
1. How often should I update my Pinterest widget? 
It's a good practice to update your Pinterest widget regularly to showcase fresh and relevant content. Consider adding new pins or refreshing the widget whenever you have new content to share.
3. Can I track the performance of my Pinterest widget?
Yes, Feedwind provides tracking options that allow you to monitor the performance of your Pinterest widget, by a number of views.
Implement these best practices and watch as your Pinterest widget becomes a valuable tool in boosting engagement, driving traffic, and increasing the visibility of your brand or content. Start creating your optimized Pinterest widget with FeedWind today and unlock the full potential of visual storytelling on your website. Let's get started!
---
Related posts