Managing FeedWind subscriptions
Subscriptions
FeedWind subscriptions are managed by an automated system with a dashboard to allow you to manage your subscription details and print invoices.
Available Plans
In addition to the Free plan available to all users, we offer two FeedWind paid subscription plans:
The Pro Plan (20 widgets) priced at $89 per year, payable in advance.
The Plus Plan (100 widgets) priced at $179 per year, payable in advance.
NOTE: These plans are both available as 14-day free trials. We do not require any payment to be made until you are ready and you can take up a subscription at any time during the trial plan. At the end of your trial, you will be offered the opportunity to continue with a paid subscription, or return to the Free plan.
Free Plan
The Free plan allows you to use the full feature set of the paid plans, but with a Powered by FeedWind backlink just below your widgets. In the Free plan you may save up to 5 widgets.
14-day Trial
We offer a free 14-day trial plan so you can try out FeedWind Plus before deciding whether to take out a subscription. In our 14-day trial of the Plus plan, you can try out all the features just as if you were fully subscribed. If you decide to subscribe within the trial period, we will not charge your account until the end of the trial, so you will still get 14 days free use of your selected plan. We will enable the full benefits of the plan you have subscribed to immediately on payment. If you don't make payment during the trial period, we'll send you a timely reminder at the end of the trial so you don't lose any uptime for your widgets. 
What if I don't subscribe during the trial period?
Should you choose not to take up a subscription, we will simply revert your account back to the Free plan. If you created widgets above the limit for the free plan (5 widgets), these will still be visible in your account and accessible if you change your mind and take up a subscription at a later date. You are still welcome to use the Free version of FeedWind.
Automatic renewal
On subscription, your account will automatically be activated as your chosen plan. When your subscription is due for renewal, your subscription will automatically renew and you'll be billed accordingly on the renewal date.
---
Upgrading to FeedWind Pro / Plus
Click on the appropriate button from the plans page.

You will then be presented with the payment processing screens. Acceptable forms of payment are by credit or debit card.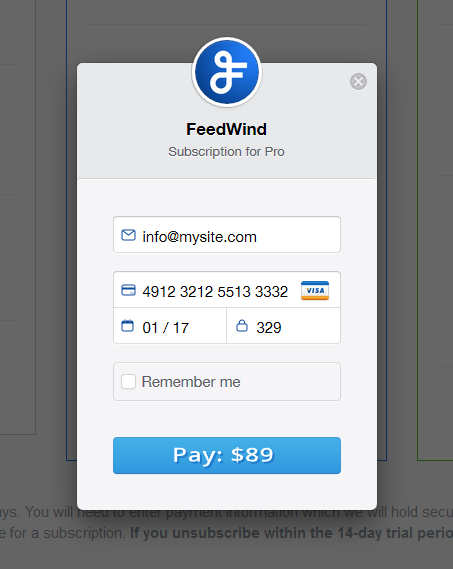 Remember: We won't charge your card until the trial period is over.
After details have been entered successfully, you will have access to the account management dashboard in your account.
---
Your account management dashboard
When you upgrade to a FeedWind subscription plan, you will have access to a dashboard after signing in, which gives you the tools you need to manage your account. You can change payment details, print invoices and cancel your renewal. To access the dashboard, click on the Gear icon and select "Subscription" from the drop-down menu.

---
The 'Your Plan' tab

Changing your payment information
You can Change your payment information by clicking on the "Change credit card" link, in the Your Plan tab.
Subscription status
You can also view your next renewal date in the Your Plan tab.
Cancellation/Late renewal
If you choose to cancel your subscription renewal, then choose the "Cancel renewal" option in the Your Plan tab. If you cancel your renewal, your account will automatically revert back to the Free plan after the renewal date. You will then only have access to the oldest 5 widgets you created. We will not delete other widgets you have created in case you were unable to renew for some reason, but wished to do so. In this instance, if you make a subscription renewal we reinstate access to any widgets that you had created in your paid plan.
---
The 'Billing History' tab
In the Billing History tab you can see all your billing details such as renewal dates, amounts paid and the invoice reference number.

Printing an invoice
You can also make use of the "Print" button alongside each billing entry to print an invoice for your FeedWind subscriptions.
---
If you need any assistance with your payment or the account dashboard, please contact support.
May 7, 2017 9:56 pm