Using Dropbox to host CSS files
How to host CSS stylesheets on Dropbox
It's easy to host css on Dropbox. This enables you to store a .css file for a custom Feedwind widget without having to host CSS on your own server. This is particularly useful where you are using an online platform such as Wix or Weebly to build your site; platforms like these do not have the facility to host CSS files, so Dropbox is a great solution.
First you need to create your custom CSS file. Depending on what sort of widget you a building (RSS widget, Facebook page widget or Google Calendar widget). You can use any code editor or plain text editor to create your CSS as explained in the relevant support documents.
Once you have created your stylesheet and saved it as a .css file, you can then upload it to Dropbox for later use.
Get the URL for your .css file
Apple Mac
On an Apple Mac, Open your dropbox, and locate your .css file. Right-click on the file and select "Copy Public Link." This will copy the publicly available URL for your .css file to your clipboard.

Windows
In a windows browser, Dropbox display things a little differently from the Apple Mac version or the Dropbox app. First, view the file list and locate your hosted .css file. On hovering over the file you will see a "Share" button appear.

Grab the custom .css file link for use in Feedwind by clicking on the "Share" button alongside your .css file in the Dropbox file list. The following modal will appear: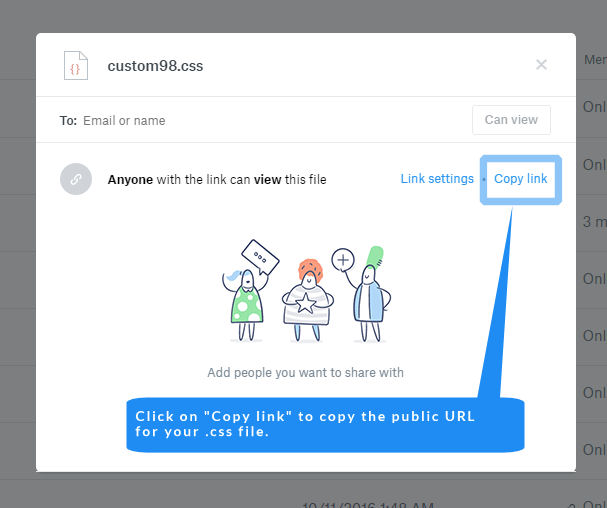 The URL will look something like this:
https://www.dropbox.com/s/j0vdhe8owoolgh5/custom98.css?dl=0
IMPORTANT: To use this URL in FeedWind you will need to make a small adjustment to the URL by changing the 'www.' in the URL to 'dl.'
e.g. https://www.dropbox.com/../ becomes  https://dl.dropbox.com/../
When you have your new URL e.g.
https://dl.dropbox.com/s/j0vdhe8owoolgh5/custom98.css?dl=0
You can then use this .css URL in your RSS, Google Calendar or Facebook page widget setup screens and create a custom styled widget.
---
May 3, 2017 10:53 pm