Keyword Filtering
Created :

Apr, 18, 2016

Last Updated:

Apr, 18, 2019
Easy Steps

Here's how to apply keyword filters to feed content

Open your rss widget for editing (or create a new widget)
Click on the > Advanced settings of the General section
Scroll to the Keyword Filters options
Add include or exclude keywords as required. Keywords can be a single word or phrase and should be separated with a semicolon ;
Click Save & Get code button for save your changes into the widget
RSS feed filtering with keywords
Using Include or Exclude keyword filters
FeedWind has an RSS feed filtering system which allows users to apply include and/or exclude filters content using specific keywords. Using a semicolon ; to separate them, multiple keywords can be entered as an include and/or an exclude filter. A keyword can contain more than one word, so phrases can also be used as well as single words.
For example, a keyword filter to include news items about climate change might look as follows:
global warming;greenhouse gas;antarctic melt;co2;
The RSS feed filters are found in the FeedWind setup screen in the Advanced settings section of the "General" section, as seen in the example below. As FeedWind supports multiple feeds, this filtering mechanism in combination with feed aggregation offers users powerful options when it comes to creating a highly focused RSS feed widget.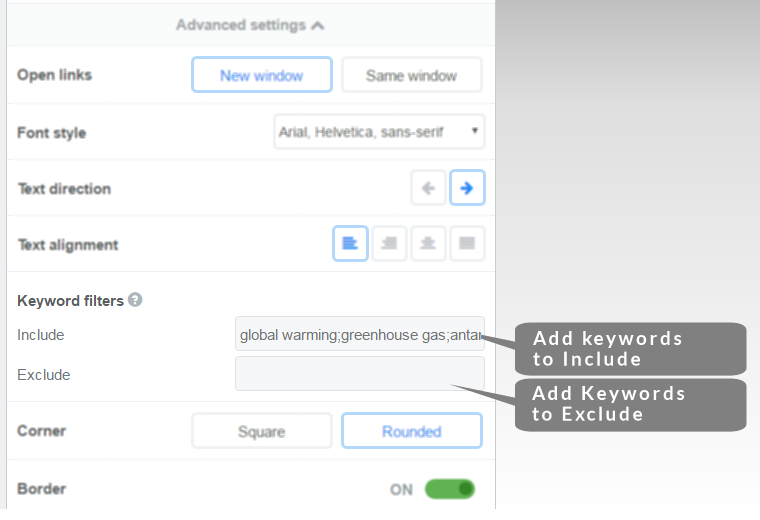 Check out FeedWind RSS feed filtering and offer your users the best information available through RSS!
---