'More Posts' Option in FeedWind
Created :

Nov, 20, 2019

Last Updated:

Nov, 25, 2019
FeedWind has added a 'more posts' link that can be placed in your feed, which will redirect users to the page of your choice. This option is generally used to link your feed to archived news and/or blog articles, but the link itself can be whichever URL you decide.
NOTE: This option can only be enabled through the RSS widget type.
Setup for 'more post' option
The 'more posts' option can be found in the 'Feed Content' section of your FeedWind's settings. You have three options to choose from:
The 'Display "More posts" link' option notes a button that can be set to on or off. Setting this to 'off' will disable the 'more options' button in your feed.
Once set to 'on' you can change the font size and color of the 'more post' link to match your feeds visuals or stand out from them.
Beneath the font options, you can change the color of the 'more options' background by entering a hex code in the dialogue box. If you're in need of hex codes for a specific color, try visiting a hex generator site like this one: https://htmlcolorcodes.com,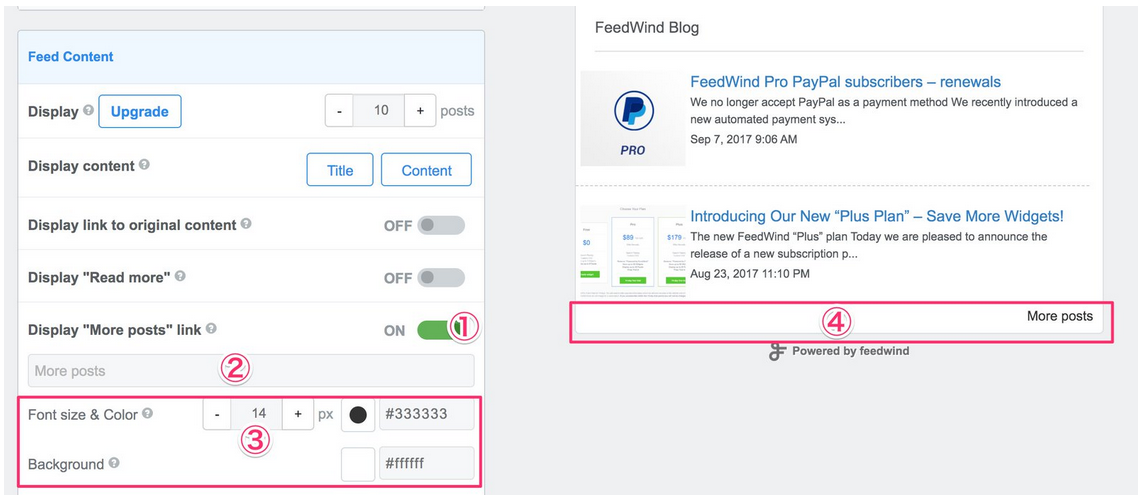 Changes made to the settings will reflect in the preview window on the right side of your FeedWind setup screen, as indicated by the figure (4) in the image above.