Renewing a Pro Subscription for PayPal Subscribers
We recently introduced a new automated payment system to upgrade from our existing manual system for FeedWind Pro subscribers. Previously we accepted PayPal subscribers. However, our new payment system does not accept PayPal payments, so for those existing users who are due for renewal we will require payment for the renewal by credit or debit card.
Grab your $39 discount!
We understand that this change in payment options might be an inconvenience for PayPal subscribers so for those users we are offering a discount of $39 when you renew using a credit/debit payment in the new automated system. If you renew without taking up this offer, the annual fee would be $89.
So how do I upgrade my PayPal Pro account to the new system?
All you have to do is visit our payments page and enter you payment details (credit/debit card). We will not charge your card immediately. We will only charge the card ON THE RENEWAL/EXPIRY DATE. To compensate you for the inconvenience we will apply the $39 discount at that time. If you decide to cancel before your renewal is due then just let us know and we will prevent any further charges from being made.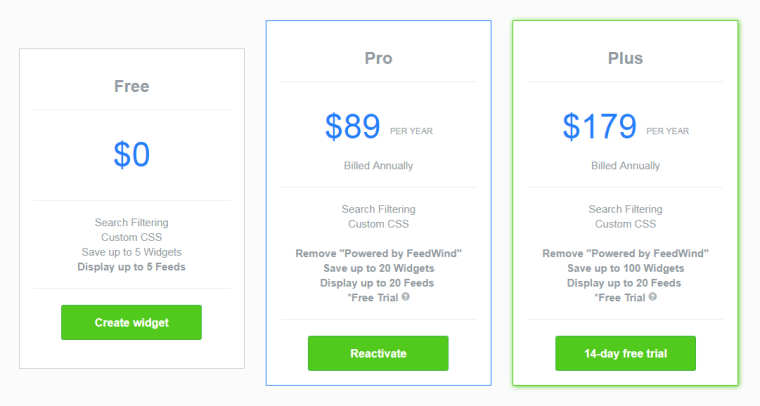 We will not charge you until the renewal/expiry date for your subscription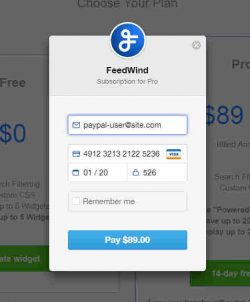 Even though it appears we are charging your debit/credit card in this process, we detect the email used in the following modal and we will not charge until your renewal date and then it will be only at the discounted rate of $50. Please make sure you use the same email that your Pro subscription was made when you fill out the payment modal.
If you have any questions about this process, how the discount/payment is applied, or anything to do with FeedWind, then please do not hesitate to contact us.
---
July 6, 2017 10:37 am