How to display podcast/audio player?
Created :

Jul, 19, 2018

Last Updated:

Apr, 1, 2019
Adding a podcast related to the topic of your website/blog can provide more valuable and interesting content and be a great addition, especially if you customize it to match the style and colors of your website.
It can look like this: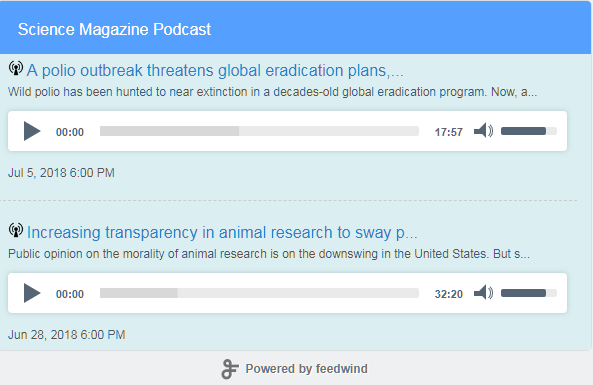 The FeedWind RSS widget allows you to play podcast within your website/blog, as a series of separate audio files. In that way, the visitors will not leave the website in order to listen to the files.
We will show you how to add it in a few simple steps:
Log in to your FeedWind account, click on "Create widget button" and select RSS feed.
Copy the RSS feed URL of the podcast you wish to use and paste it into the Feed URL box.
Click on the "Advanced settings", enable the Podcast/Youtube player and select "Display podcast icon". Now you can also enable the "Display audio player" option and see the podcast audio files.

Customize the look of the widget according to your taste and the look of your website.